Who was Harold H. Bate?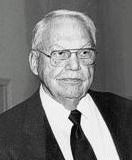 Harold H. Bate graduated from the School of Forestry at Cornell University in 1930, after which he joined his father and three brothers in the operation of the J. Herbert Bate Company, manufacturers and wholesalers of lumber, in New York City. During his career with the company, he was associated with the operation of several sawmills and the acquisition of timberlands primarily in Oregon and North Carolina.
After several years in New York with the company, the family business took him to Wilmington, North Carolina before his move to New Bern in 1964. Following the sale of the company, he continued his timberland acquisitions and investments as an individual. His success in timberland acquisitions and management extended successfully to investments on Wall Street.
Harold H. Bate generously supported many local charitable organizations and causes over the years. During the 1980's Mr. Bate established the J. Herbert Bate Distinguished Professorship of Medicine with the UNC Medical Foundation of North Carolina in memory of his father. A strong advocate of education, Mr. Bate was a significant financial supporter of East Carolina University during his lifetime. In February 2001 ECU named its General Classroom Building in his honor.
Because of his heartfelt interest in the people of eastern North Carolina, Mr. Bate unselfishly supported many local charities.
Mr. Bate has been described as the "epitome of the citizen-servant, a resourceful businessman with a strong social conscience who, without fanfare, has used his success as a foundation of good works and philanthropy."
Considered a true gentleman to those who knew him, he will truly be missed by the community. His legacy of caring and investing in the welfare of others remains alive through this foundation.